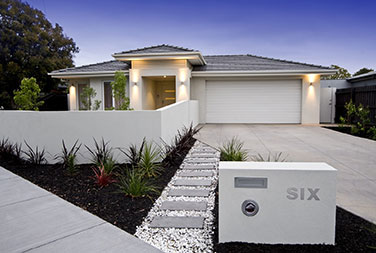 Render-vations can help in transforming your most valued asset into something truly outstanding! Rendering is an excellent cost effective way to improve the look, appeal and value of your property.
When it comes to renovating your home, making the most impact without over capitalizing is the most sensible way to go. It may surprise you to realize that the cost of rendering an average sized family home is often cheaper than the cost of renovating a bathroom or kitchen! Yet, the front of your home creates that all important first impression and street appeal to visitors or potential home buyers and dramatically improves the look and value of your property.
We can also render fences, letterboxes, bbq and pool areas (we have rendered pizza ovens too!) and internal feature walls. Some of our wonderful Pro-Series finishes can be used in bathrooms and kitchens, as they contain waterproof qualities. If you like the look of concrete bench tops we can achieve that for you too. If you have a new extension, we can match the new render to any existing render for you.
Our friendly Render-vations team also has extensive experience in Render repair and can repair damaged render properly so that it will last for many years to come. Examples of damaged render include; drummy render, water or fire damage, cracking and chipping.
The first step in renovating your home with a fresh render job is to call us and arrange a no obligation free quote! We will come out ON TIME and discuss your options with you, guiding you through the selection process. Your quote will be determined by three main factors:
1. Surface to be Rendered
Whether we will be rendering brickwork, blockwork, blueboard, polystyrene, green board or hebel influences the preparation time, process and materials to be used. Not all brickwork is the same - for example face brick will require a key coat prior to rendering to ensure that the render adheres correctly, where as builders bricks will not. Blueboard will require the use of an acrylic render. The EPS (polystyrene) process requires render with embedded mesh for reinforcement and a final coat of acrylic render. As you can see, there are many variations and different application methods. Achieving a top quality, lasting finish is our priority. Using the correct process and materials for the job is vital in the final outcome.
2. Finish
There are multiple choices when it comes to rendering finishes. Your choice will depend on the surface to be rendered and the final look you want to achieve. Our expert team can guide you through this selection process. We will ensure that you understand the product, application and finish you will receive and are quoted for.
3. Materials Used
All products used by Render-vations are the best quality renders. Our aim is to give you the best quality and finish possible and many products offer warranties as well. All jobs with external angles will include the application of corner beads, which provide added strength and a very straight edge. The cost of materials varies depending on which materials are used and the quantity of materials needed. Materials to be used will be explained as part of your quote, so you know exactly what you are getting.
Once you approve your quote, we will book your job in for you. Before work even starts, we will mask all windows, and drop sheet all paths, driveways and garden beds - all flooring, fixtures and surrounding areas will be protected and left clean and undamaged from the cement render process.
Call us today to arrange a no obligation free quote and get your renovating dream underway...we enjoy seeing the transformation and we know you will too!